Niagara County Opportunity Zone Featured Sites
Niagara County offers a wide array of potential Opportunity Zone investments, most significantly in real estate. Real estate investment opportunities include mixed-use, multi-family residential, commercial, and industrial properties. Below are just a few of our featured sites. You can view additional sites in our 16-page prospectus.
Download Opportunity Zones Prospectus
Contact us to learn more about our Opportunity Zones program including additional incentives for real estate development.
---
Lockport
The heart of downtown Lockport is the historic Erie Canal and Flight of Five Locks. These unique attractions are driving tourism to the area leading to new tourist attractions and other commercial development. The community features a vibrant and walkable Main Street, which is home to dozens of businesses as well as many local festivals and events. The historic Palace Theater and the Cornerstone Ice Arena are also signficant draws to the area. At the center of this is the Former YMCA Building, a 33,360 sq. ft. building constructed in 1926 that is perfectly situated for a historic preservation and adaptive reuse project. Potential uses include a boutique hotel, apartments, offices, and/or restaurant and retail space.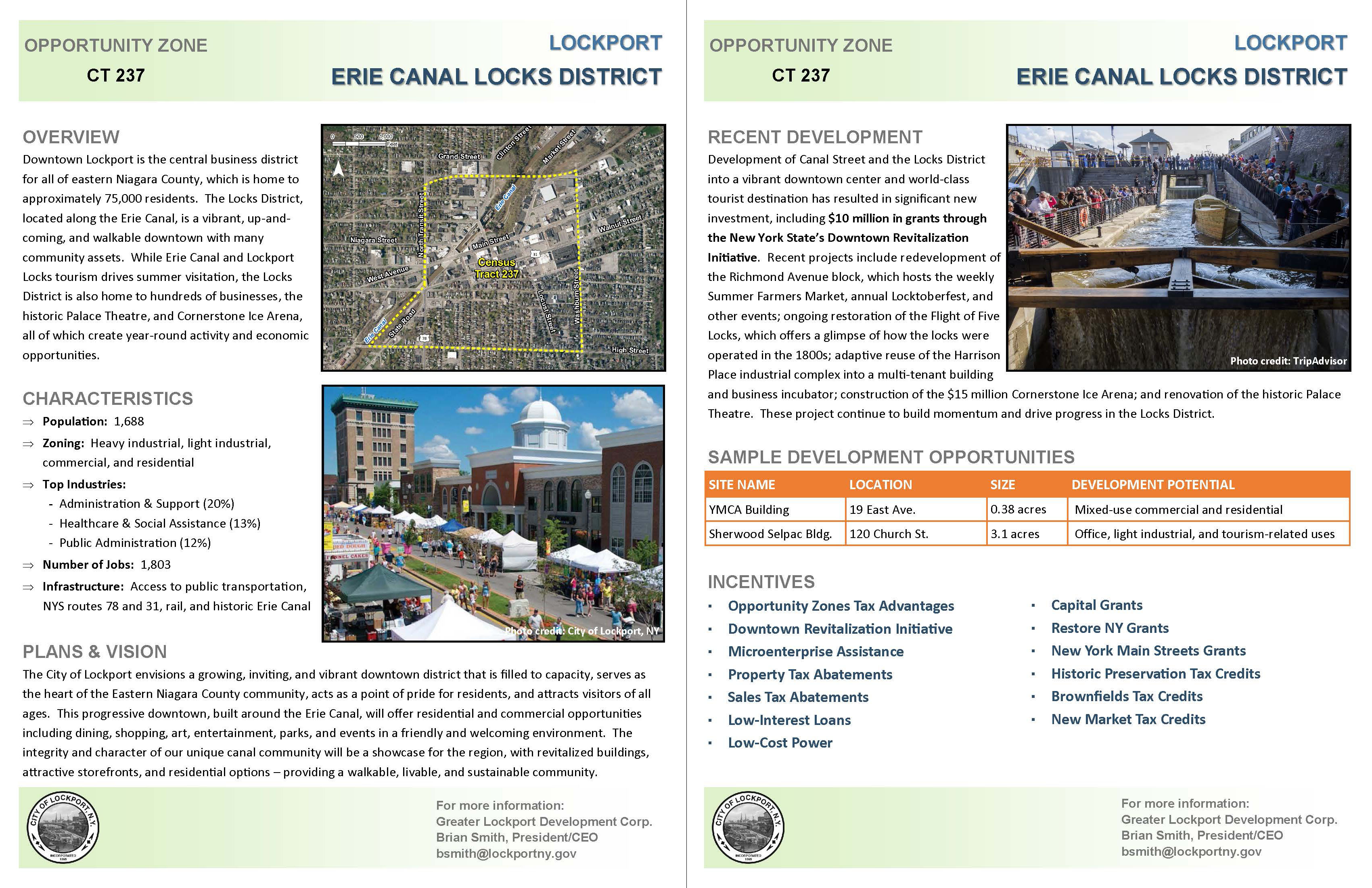 ---
Niagara Falls
The Highland Community on the north side of Niagara Falls is an important industrial area that is also home to several thousand residents. It functions as a major regional and international gateway due to its proximity to Canada, Interstate 190, the Niagara Falls International Railway Station, and the international Whirlpool and Lewiston-Queenston Bridges. Niagara University and the Niagara Power Project are also located nearby. Within the Highland Community is 1501 College Avenue, a remediated brownfield site where tax credits of up to 20% of project costs are available and can be claimed for all site development, building construction, and equipment costs. The property is zoned heavy industrial making it ideal for manufacturing, though any number of industrial and office related uses are possible.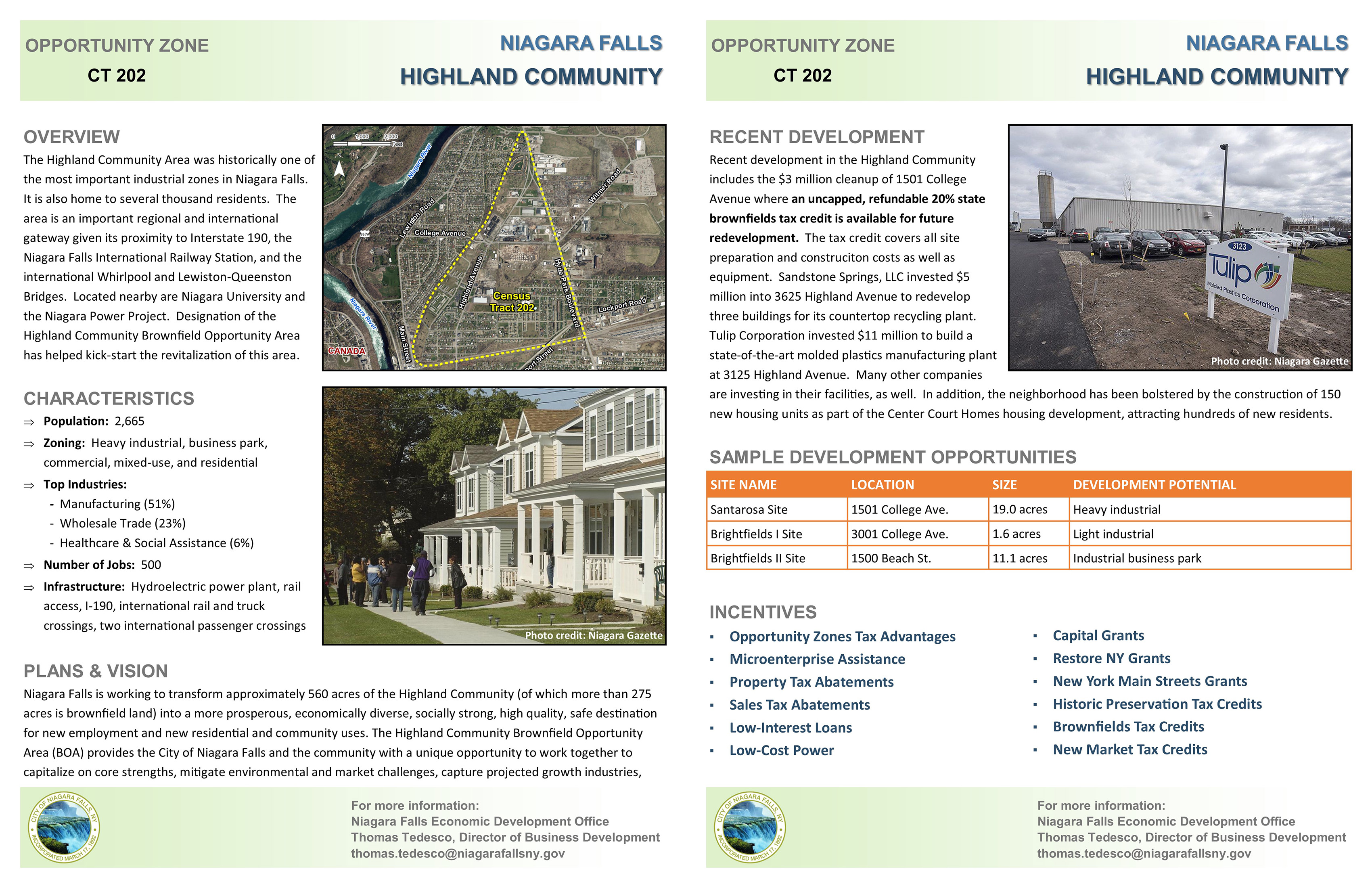 ---
North Tonawanda
Located at the confluence of the Erie Canal and Niagara River, North Tonawanda's historic downtown offers abundant waterfront amenities. Gateway Harbor Park, which overlooks the mouth of the Erie Canal, is popular with boaters and hosts dozens of annual events. The historic Riviera Theatre located on nearby Webster Street also hosts over 100 events each year, bringing thousands of visitors to the many shops and restaurants located along this vibrant main street. Situated at the north end of Webster Street near the bridge to Tonwanda Island is 235 River Road. The site offers a unique opportunity to extend the commercial vibrancy of Webster Street, while anchoring the gateway to Tonawanda Island, which is envisioned for redevelopment as a vibrant, mixed-use residential, commercial, recreational, and entertainment waterfront hub.