Featured News - Current News - Archived News - News Categories
Straight Talk 2020 SBA's Small Business Assistance Conference
by NCCED
Thu, Dec 5th 2019 01:00 pm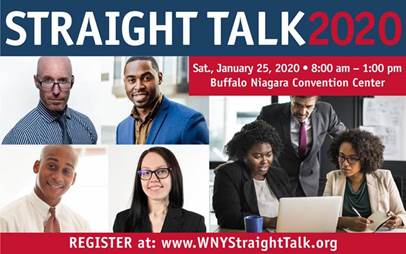 Aspiring or existing entrepreneurs are invited to attend Straight Talk 2020, a small business assistance conference on Saturday, January 25. 2020. You get the entire Saturday event PLUS the complete 8-session follow on series all for one very low price!
Do not miss out on this once-a-year world-class event attended by hundreds! This is up to 27 hours of networking and workshops for you. Choose a few or take them all.
Small business owners will attend the introductory session "Business Basics" and choose from two additional seminars from the 8 that will be offered throughout the day.
Topics at this event include:
1. MAKE YOURSELF CREDIT WORTHY
2. MAXIMIZE OPPORTUNITIES THROUGH FEDERAL, STATE, AND LOCAL CERTIFICATIONS
3. SHOW ME THE MONEY!
4. SOCIAL MEDIA MARKETING
5. NAVIGATING YOUR BUSINESS THROUGH PERMITS AND TAXES
6. WE DID IT! YOU CAN TOO!
7. HOME-BASED BUSINESS ISSUES.
8. EFFECTIVELY BUILDING BUSINESS RELATIONSHIPS FOR WOMEN